Release Notes: January 21, 2021 Follow
Smart Links
Smark Links is a new feature being introduced in this release. After taking an action, such as creating a new traveler profile, the system will present you with beneficial shortcuts, such as the one shown below. Presently, this is the only Smart Link. If you have suggestions for a Smart Link, be sure to let us know via our support site.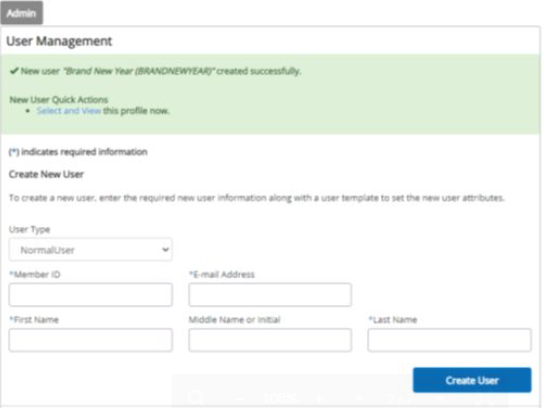 Hotel Shopping Enhancements
Travelers often have travel preferences/policy settings configured that exclude or prohibit results. This leads travelers to believe the inventory is unavailable or that the tool is not working. The new centralized messaging section located above the hotel options will provide additional information to the traveler.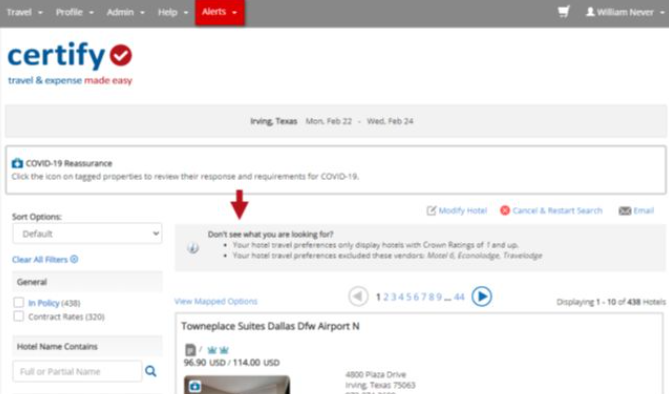 Previously, certain room types could be removed from hotel results using policy. Unfortunately, travelers wonder why certain rooms they saw on off-channel sites did not exist in our option set. When a room violates policy, a new message has been introduced at the top of the room results. The message clarifies out-of-policy rooms are now available to be viewed, but not booked, at the bottom of the room list.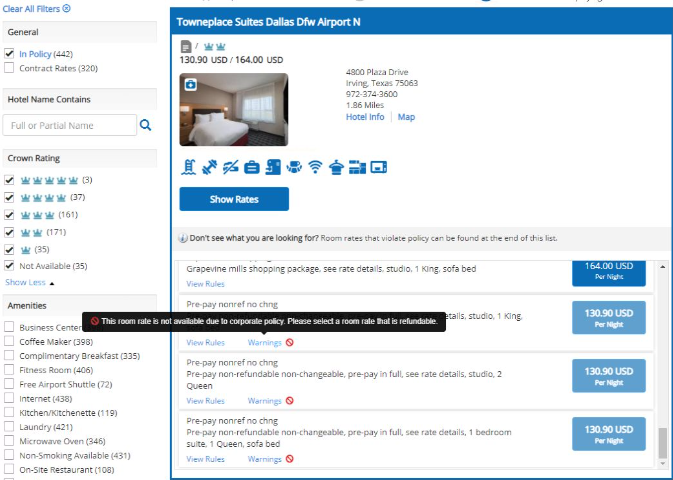 Dynamic Hotel Filtering
Filters may be selected to narrow the result set. The number of properties available for the remaining unselected filters will be show in (xx).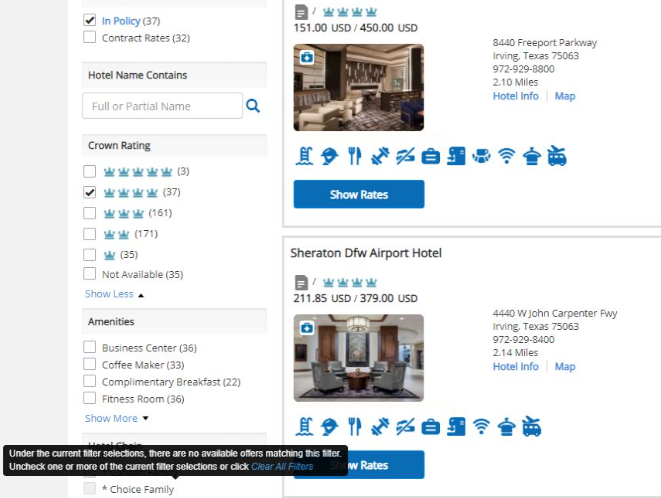 In the above screenshot, there are no Choice Family properties available that also meet the selected criteria of having 4 Crown Ratings. The shown message will appear when the user hovers over the Choice Family filter. This enables travelers/travel planners to quickly narrow their search results.
In Policy Filter
Previously, travelers would not see properties that violate policy. This led to dissatisfaction with the tool because they believed the tool was not returning all results. Travelers can now filter down to only show properties that are compliant with policy. Alternately, they will be able to deselect it to see all properties, including those that violate policy.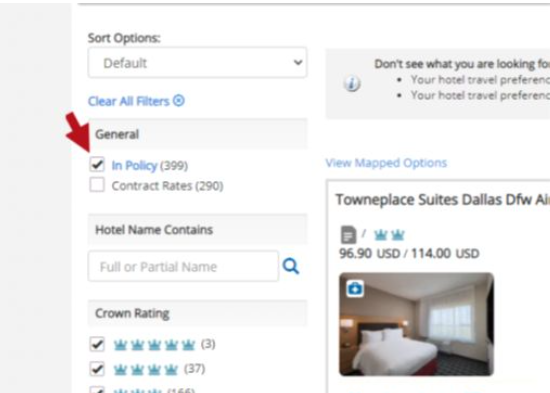 New or Updated Custom Text ID's as follows:
| | | | |
| --- | --- | --- | --- |
| CTID # | Section/Sub-Section | Description | Default Text |
| 110720 | Error Messages/Travel | Hotel Rooms Out of Policy Message | Don't see what you are looking for? Room rates that violate policy can be found at the end of this list. |
| 110721 | Error Messages/Travel | Hotel Name Filter Placeholder Text | Full or Partial Name |
| 110722 | Error Messages/Travel | Car Option out of Policy Warning: Not Car Contract Rate or Lower | This car rate is not available due to corporate policy. Please select a preferred/contract rate <i>or</i> a rate that is less than the lowest preferred/contract rate. |
| 110723 | Error Messages/Travel | Car Option out of Policy Warning: Not Lowest Car Rate | This car rate is not available due to corporate policy. Please select the least expensive car rate. |
| 110724 | Error Messages/Travel | Car Option out of Policy Warning: Not Car Contract Rate | This car rate is not available due to corporate policy. Please select a preferred/contract rate. |
| 110725 | Error Messages/Travel | Car Option Out of Policy Warning: Not Preferred Car Vendor | This car company is not available due to corporate policy. Please select another car company. |
| 110726 | Error Messages/Travel | Car Option out of Policy Warning | This car option is not available due to corporate policy. Please select another car option. |
| 110727 | Error Messages/Travel | Car Option Warning: Don't see what you are looking for? | Don't see what you are looking for? |
| 110728 | Error Messages/Travel | Hotel Option Warning: Don't see what you are looking for? | Don't see what you are looking for? |
| 110730 | Error Messages/Travel | Hotel Rate out of Policy: Preferred Only | This room rate is not available due to corporate policy. Please select a preferred/contract rate. |
| 110731 | Error Messages/Travel | Hotel Rate out of Policy. Least Expensive Only. | This room rate is not available due to corporate policy. Please select the least expensive room rate. |
| 110732 | Error Messages/Travel | Hotel Rate out of Policy: Not Preferred Hotel Chain | This hotel chain is not available due to corporate policy. Please select another hotel chain. |
| 110733 | Error Messages/Travel | Hotel Rate out of Policy: Crown Rating | This hotel is not available due to corporate policy. Please select Hotel with a higher crown rating. |
| 110735 | Error Messages/Travel | Hotel Rate out of Policy: Property Contract Only | This hotel is not available due to corporate policy. Please select a preferred/contract Hotel. |
| 110736 | Error Messages/Travel | Hotel Rate out of Policy: Non-Refundable Only | This room rate is not available due to corporate policy. Please select a room rate that is refundable. |
| 110737 | Error Messages/Travel | Hotel Rate out of Policy: Contracts or Lower | This room rate is not available due to corporate policy. Please select a preferred/contract rate or a rate that is less than the lowest preferred/contract rate. |