Release Notes: September 2, 2021 Follow
New Booking Option for Southwest
A new option has been added to the Airline SuperSwitch Settings for Southwest. By default, Southwest inventory from your GDS is returned when content from the Southwest Direct connect is not available. To remove Southwest options from your GDS, check Filter DGS Southwest Options.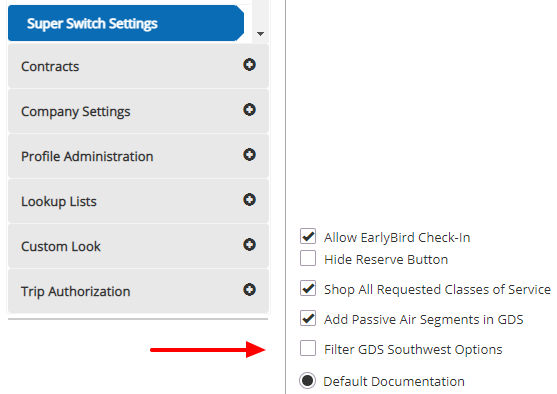 Air Filter Updates
Air Filters have been updated, enabling users to switch between two or more selected filters. When a user hovers over one of the selected filters, the Only option appears. Selecting Only will uncheck the other filters in the section.
Example below of Cabin Class Filter:
Example below of Stop-Over Airports Filter: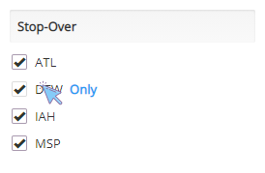 Cancellation Messaging (Sabre Only)
When a user cancels a hotel within their cancellation policy, they will now receive a confirmation message. The message will read, "Warning: The cancellation deadline for the following hotel(s) has expired. <span class=hotel-cancel-msg>[HOTEL_NAMES]</span>".
The hotel(s) that violate the policy will be listed accordingly.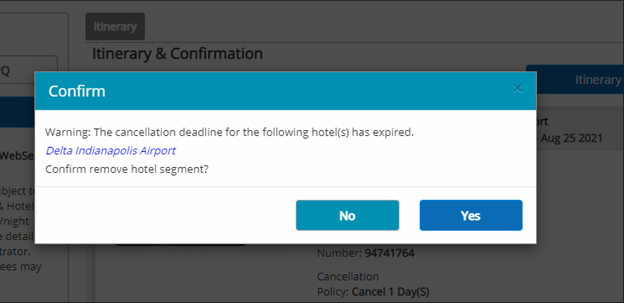 Lookup Lists For Company Admins
A new rule item called Allow Specific Lookup List Edit has been added to allow Admins to edit specific Lookup Lists. When including the rule item Allow Specific Lookup List Edit on a policy branch, the Admin will be able to select one or more Lookup Lists.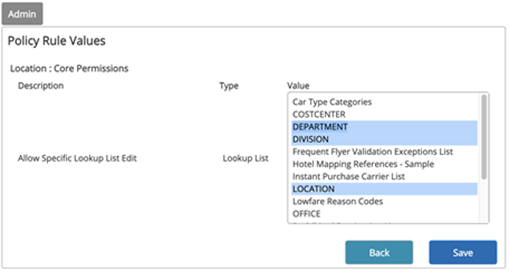 Admins with this limited access will be able to navigate through all Lookup List sections in Admin, but only able to edit the Lookup Lists they have been given permission for. All other functionality will be disabled.

UI/UX Updates
The Travel Preferences on the Home page have been updated to disclose preferences as needed by the user. Preferences applied only when a parent field has been checked are grouped together. When the parent field is checked the preferences will be visible.
For example, checking Accept Connections reveals the number of connections available.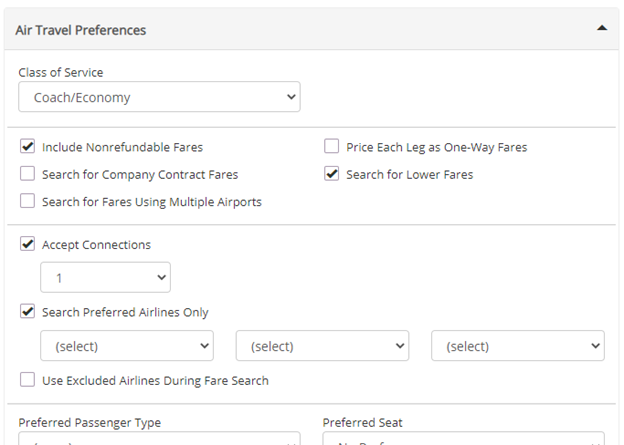 If the user were to check Search Preferred Airlines Only, the airline options are opened for selection.
New Rule to Remove Hotel Name
A new rule, Disable Hotel Name Contains Search, has been added to remove the Hotel search option for a specific hotel name. When attached and enabled, the search option for Hotel Name Contains will be removed from the search criteria. The filter for the hotel name is still available on the results page, though an error is returned if a user enters a name that does not match any hotel.
Using the new rule removes the indicated box from the input options.