Release Notes: April 21, 2023 Follow
New Duplicate Items Feature for Admins
We understand that managing large corporations on our site can be challenging. We are pleased to introduce a new feature to make administration tasks quicker and more straightforward. With just one click, you can copy existing settings using the new copy icon that appears on applicable list items.

Enhanced User Experience for Off-Airport Car Locations
We're thrilled to share exciting news about our off-airport car selection process! We understand that finding the right rental car location can sometimes be a hassle, so Certify Travel has recently introduced some user-friendly improvements to make your search easier than ever before.
Our newly designed pop-up map features color-coded pins highlighting all off-airport car rental locations. Simply hover over a pin, and a helpful tooltip will appear with essential details about the location, including whether it's contracted.
To use this new feature, open the Off-Airport Location link on the Car Home page.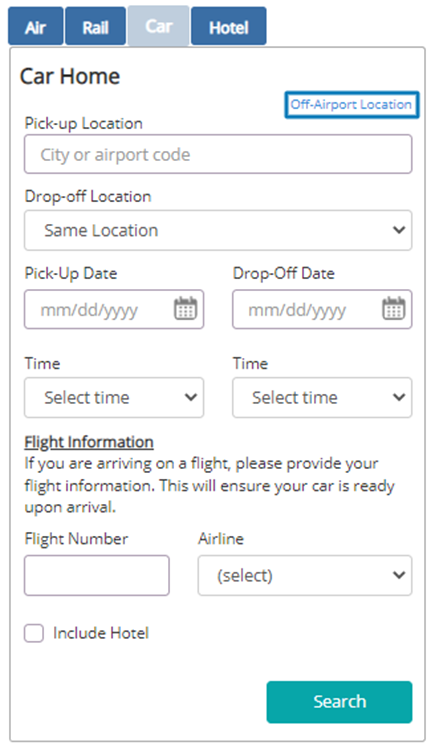 Enter the general area you are looking to find car locations. Once available locations appear in the dropdown menu, click the Select from Map link.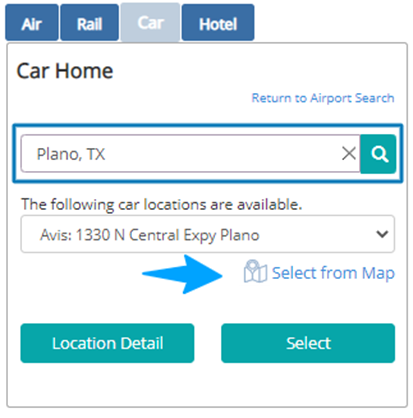 On the map, the user can hover over blue and green pinpoints to see information regarding the location. In the example below, the green pin represents a contracted location.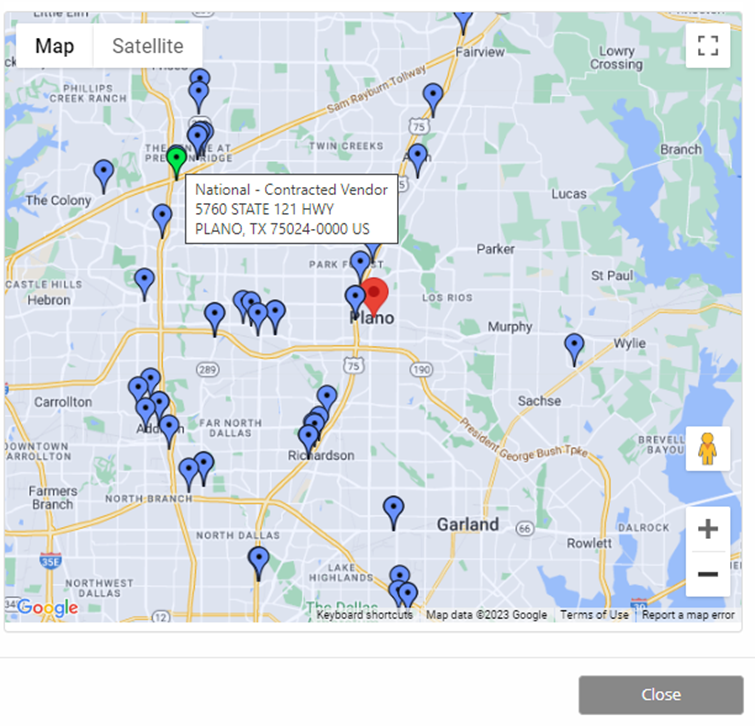 Clicking on a pinpoint will select the location. Click Select to start the booking process.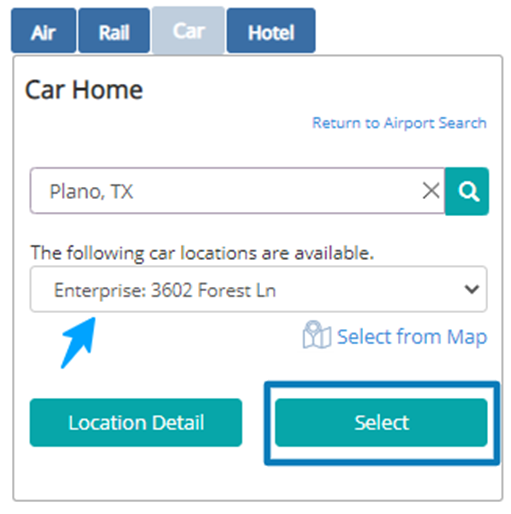 The user can now progress through the reservation process as usual.
Updated Filters for Out of Policy Options
Certify Travel has made an exciting update to our system by adding a new In Policy Filter feature. By default, this feature is now checked to ensure a seamless experience for our users. The filter automatically removes prohibited options when enabled to save time and streamline your workflow.
This new filter targets options that are returned in a user request. This means that if an option was pre-filtered before being displayed to the end user, it will still not be displayed.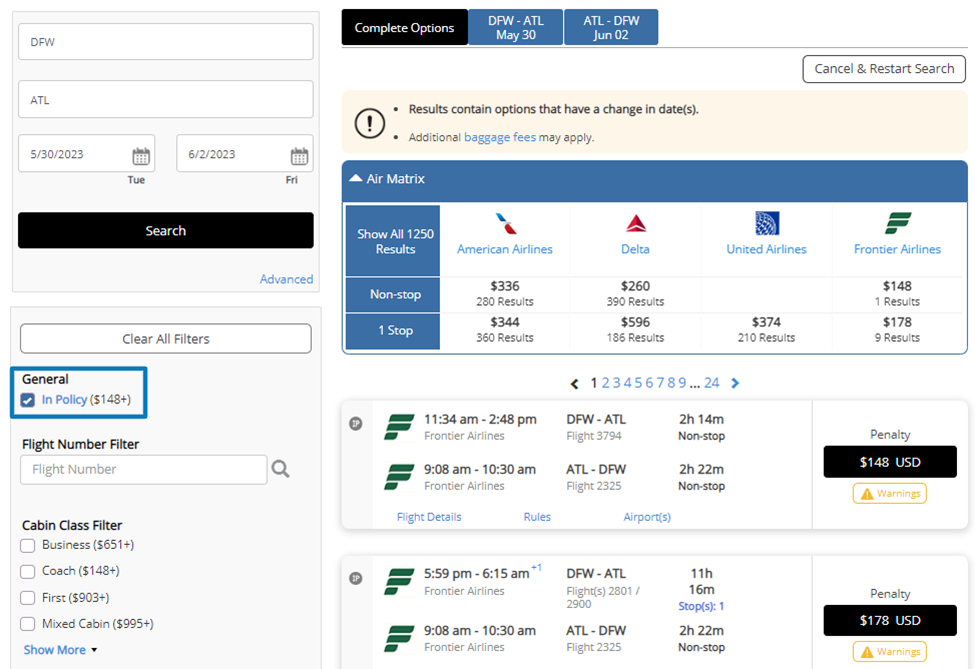 NDC / American Airlines - Booking Workflow
American Airlines has recently decided to withdraw 40% of its content from the GDS EDIFACT channels. While this impacts many online booking agencies, Certify Travel wants to assure our customers that we have an alternative way for travel agencies to access these fares through our integration with Travelfusion.
If your agency activates the Travelfusion integration these fares appear as NDC (New Distribution Capability) and are designated as a Specialty Fare in our interface. With this new workflow, there are limitations regarding which fares users can combine.
For example, an NDC Specialty Fare can only be combined with the same carrier and fare type. Currently, American Airlines does not allow the ability to mix and match NDC fares with other types of NDC fares or carriers without resulting in a split ticket, which Certify Travel currently does not support for NDC fares
Please Note: 60% of American Airlines content will still be combinable with other fare types, and only the Specialty Fares will be subject to these new combinability requirements.
To accommodate these changes, we have improved the user interface to ensure that travelers and planners can easily understand the differences between NDC fares and non-NDC fares:
Labeling: NDC options are marked as Specialty Fares, with the limitations listed through a message at the top of the options page and tooltip descriptions.

In Policy Filter: Travelers can now filter options by whether or not they are in/out of policy. For Specialty Fares, this ensures users can see options that cannot be combined, thus ensuring that the solution still provides access to all fares.
Wizard Shopping: For customers using Wizard Shopping, to book outbound Specialty Fares automatically see only combinable return Speciality Fares.

Corporations not using the wizard will see schedules without fares unless it is a direct connect option.

Purchasing: All Specialty Fares are Instant Purchases.
CO2 Emissions & Policy Compliance
Tracking carbon emissions is crucial for understanding and reducing an organization's carbon footprint.. We are proud to announce we have partnered with Thrust Carbon, to provide our customers with advanced carbon emission calculations.
Our new Air CO2 Emission Capabilities are designed to help our clients reduce their carbon footprint while traveling. When shopping for flights, the policy will be displayed on Complete Options or when comparable options are shown in our Wizard Shopping approach.
Additionally, the applied policy allows companies to require trip authorization, receive a warning, or prohibit certain flights based on their carbon emissions compared to the lowest offered option. In addition, companies also have the ability to prompt the user for a reason when declining the option with the lowest carbon emission and document the PNR for reporting purposes. With these capabilities, we aim to empower clients to make more sustainable travel choices and contribute to a healthier planet.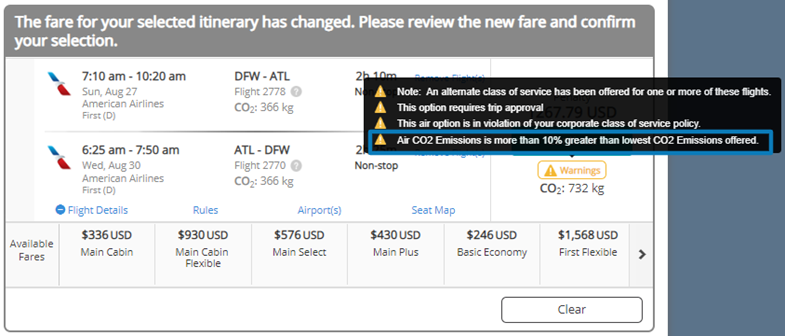 For more information regarding licensing and activation, please open a support ticket to get started!