Trip Authorization Policy: Basic Fare Types Follow
The Restricted Fare Families lookup list can be used to prohibit fares based on the brand name. The carrier and their brand name for their Basic Type Fare must be listed to prohibit their selection.
A new option has been added to the Trip Authorization Policy for Air. The new option is Contains Basic Economy Fares. This new control now provides the additional options to Warn and/or Require Trip Approval for Basic Fares.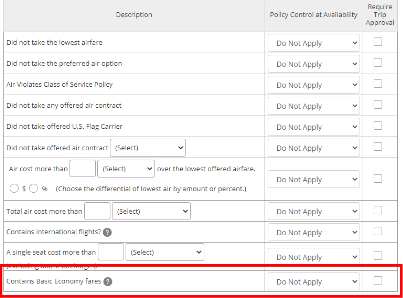 This control applies to Basic Type Fares from any carrier. You can use this new setting instead of maintaining the Restricted Fare Families lookup list when your policy applies to all Basic Type Fares.
Certify maintains a list of Basic Type Fares that this control is applied to. This setting is not related to the Restricted Fare Families lookup list. If you currently have any Basic Type Fares in your lookup list included in a policy, those brand names will still be prohibited.
User Experience
When set to Prohibit, any Basic Type Fare will be prohibited from selection.

When set to Warn, the fare type will have a warning as follows: