Certify Travel offers various travel reports available to the administrator. These reports contain both information regarding site configuration, such as your company's hotel and air preferences, in addition to utilization data, such as travelers' itinerary details and trip approval status.
This article will show you, a local Certify Travel Administrator, how to access and run reports.
Step 1: Select Company Settings in the Admin menu. Then, Reports.

Step 2: Select the System and Activity Reports.

Step 3: Select which report you need, and click Run.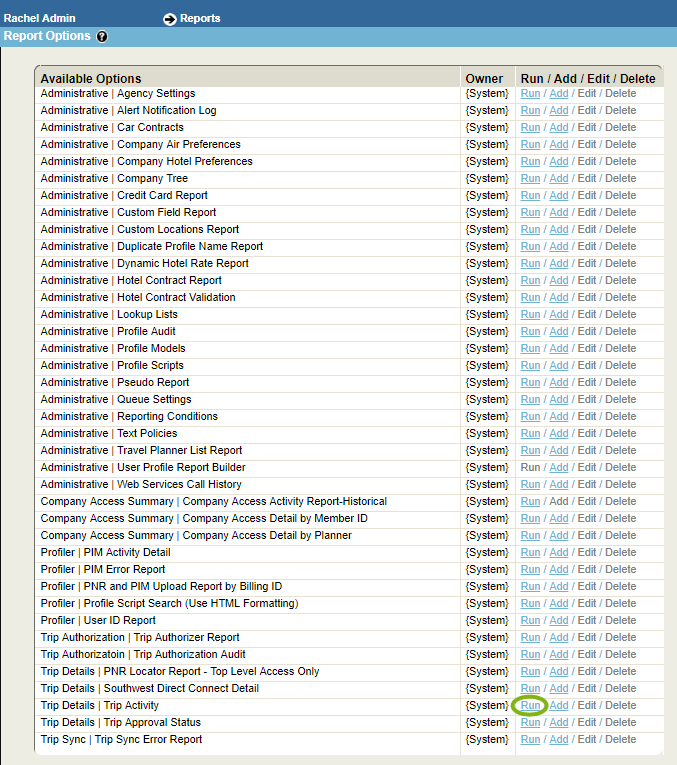 Step 4: Utilize the filtering options to limit your results if applicable. You also have many other options regarding the type of output format, limitations on rows, and the report should appear in a new window. When finished, click Continue.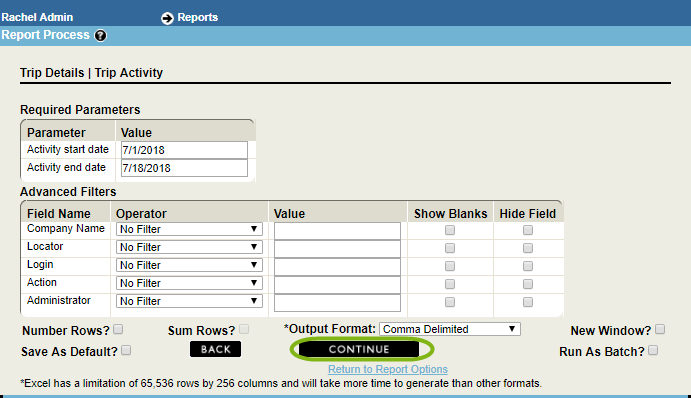 Step 5: The report will be available to access dependent on your selection on the previous screen. You will receive a downloaded file, or, the report will be accessible in a new browser window.
Frequently-Used Reports:
Hotel Contracts: All hotel contracts entered for your company.
Queues Settings: Queue settings configured for your company.
Reporting Conditions: A list of all reporting conditions, prompting and associated GDS format for the site.
Company Access Activity Report - Historical: Summary report detailing your company's historical data.
Company Access Detail by Member ID: Details traveler and individual trip information by user.
Company Access Detail by Planner: Details individual trip information booked by a Travel Planner.
PIM Activity Detail: Activity detail for profile status.
Travel Planner's List: List of travelers and their associated travel planners.
Profile | User ID: Lists all end users registered in the system.
Trip Activity: PNR Record Locators by traveler for bookings.